Perth (PER) Airport Guide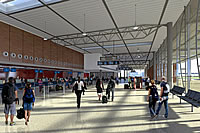 Perth Airport is the fourth biggest airport in Australia and in terms of passenger traffic and is located 12 km from the centre from the capital of Western Australia.
Qantas, Emirates, British Airways, Virgin Atlantic and Air France all run services at the complex.
Perth Airport Amenities
There are plenty of places for the fashionistas of this world to divulge in a little clothes shopping at Perth Airport. Shops include Tie Rack, Sunglass Hut, Rip Curl and the Purely Australian Clothing Company.
In terms of grabbing something to eat and drink, holidaymakers have a wide choice as well, including outlets such as Breakfast, Lunch, Dinner as well as Red Rooster, Freshwater Bay Alehouse and Aroma Cafe.
Australian Gems and Jewellery will most likely appeal to accessory fans, while NewsLink and Virgin Music may be good places to pick up some gifts before heading off on a flight.
F1rst Duty Free offers a variety of products, including fragrances, alcohol and technology, claiming to be dedicated to offering low prices and high value for all. It compares it prices against competitors often to make sure they provide the best price throughout the year.
Those seeking to change currency can head to Travelex is open to customers offering choice of over 40 available currencies. Phonecards and Cash Passport cards are also available at the outlet. All Travelex services are open every day of the year.
Toilets and parenting rooms can be found in all of the three terminals, while drinking fountains can be found in Terminal 1 for travellers feeling the thirst. Perth's tap water is safe to drink.
Internet access machines are also located in all terminals.
Terminals at Perth
There are three terminals at Perth Airport, two of which, T2 and T3, are for domestic travel. T1 is the international terminal.
Perth Transport Links
The Connect shuttle buses can take travellers to the doors of the domestic terminals and this service runs all day, every day.
They connect to the terminal every 15 minutes, have a decent amount of luggage room and are lowered to the ground for easier access.
As for T1, the Perth Airport City Shuttle meets each arrival within 45 minutes of customs clearance. The service also meets every domestic arrival within 30 minutes of luggage collection.
Car rental services are provided by a variety of companies, including Avis, Europcar and Hertz.
Taxi ranks, meanwhile, can be found outside of each of the three terminals as well as Skippers Aviation and National Jet Systems. Holidaymakers heading to Perth should be aware, however, that they may be asked to pay their fare in advance.