Kuwait Airways Flights and Routes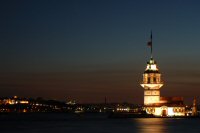 Kuwait Airways fly to many destinations including New York, Paris, Geneva, Cairo, Jakarta, Beijing and Delhi
Kuwait Airways (KU) has launched two new routes, to Madina in Saudi Arabia and Istanbul in Turkey. Badr Al-Amiri, the company's Regional Director, stated that the main reason for introducing these routes was the current state of unrest in certain Arab countries, which has meant that travellers were losing out on particular destinations.
Istanbul was chosen after extensive research, during which it was discovered that most tourists preferred this city over many others. This was not only due to the fact that it is a popular holiday destination, but also because of the political disturbances that have been taking place in some Arab capitals. Madina, on the other hand, holds considerable religious significance; during Ramadan many people want to take part in Umrah or pay a visit to the Prophet's Mosque.
There has been a major fall in the number of people visiting the Middle East and this is mainly due to events in Egypt and Syria. This political unrest has had an impact on certain Kuwait Airways destinations and these new routes will enable travellers to continue to visit and explore the area. In-flight improvements include more extensive menus and more recently released films.
Hamad Al-Falah, the airline's Chief Executive Officer and Administration Director, stated that demand has also increased from customers wishing to travel to Vienna and that many people fly to the Czech Republic for spa treatments. As a result, discussions are being held concerning the introduction of direct flights to these destinations at some point in the future.