Mumbai Chhatrapati Shivaji (BOM) Airport Guide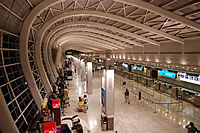 Chhatrapati Shivaji International Airport in Mumbai, named after the founder of the Maratha Empire in Western India in 1674, caters for 24.3 million passengers a year and handles around 530,278 tonnes of cargo.
It has recently been refurbished and so it boasts modernised facilities. After the GVK took over management of the hub in February 2006, various upgrades were made, including extending passenger lounges, adding more shops, revamping the terminals, building a children's play area and gaming zone and adding check-in counters.
In 2009, the hub was named the Best Managed Airport at the CNBC Awaaz Travel Awards, based on its performance in terms of class organisations, destinations, infrastructure and service providers.
Chhatrapati Shivaji International Airport Amenities
Chhatrapati Shivaji International Airport's two international terminals have seven lounges between them. T2B features the Reserved and Clipper lounges, as well as Lufthansa, Emirates and British Airways facilities.
The Lufthansa lounge features TVs as well as a selection of local, international and German magazines and newspapers. There are also business facilities such as a copy and fax machine, PCs with internet access and W-LAN connections.
British Airways' Galleries Lounge has a boutique hotel feel, featuring a Champagne bar and wine gallery, as well as a cafÈ, refectory, deli and terrace and viewing area. In addition, there are workspaces and complementary wi-fi.
Meanwhile, in T2C, there are the Celebration and Maharajah lounges.
For those who do not have privileged access to such facilities, there are plenty of other amenities. Both domestic and international terminals have a variety of food and beverage outlets, with both local and global chains offering their services. For example, Baskin Robbins, KFC, and Pizza Hut are all present.
Terminals at Mumbai Chhatrapati Shivaji
Within the international and domestic terminal buildings, there are two separate sections for passengers. A free inter-terminal transfer service runs between the two buildings every 30 minutes.
The hub's owners and managers are also aiming to extend its capacity even further, however, with plans to upgrade infrastructure and build a new terminal within the next four years.
This will see a new section of the airport being constructed at Sahar, near the current international terminal. With these new facilities, Chhatrapati Shivaji International Airport would be able to cater for up to 40 million passengers.
Chhatrapati Shivaji International Transport Links
Chhatrapati Shivaji International Airport is located between 25 and 35km from Mumbai city centre, depending on which terminal you start from. It takes between one and two hours to reach the business district, with peak traffic times at night.
Passengers can take pre-paid or meter taxes, local transport buses, three wheelers or private rental cars to reach the airport. In addition, travellers can opt for private luxury coaches to journey between the hub and parts of Maharashtra and southern states of India.
For those wanting to get some sleep soon after arriving, or just before leaving, Chhatrapati Shivaji International Airport, there are a number of hotels within the hub complex.
Premier facilities include the ITC Grand Maratha Sheraton, the Intercontinental, Le Royal Meridien, the Hyatt Regency and the Leela. There are also budget hotels such as VITS, Kohinoor Continental, Kumaria residency, Host International close by.