Thomson Flights and Routes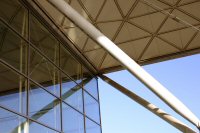 Part of TUI AG, this low-cost airline operates flights from 20 UK airports, carrying over 8 million passengers annually to 80 destinations worldwide.
The world's largest holiday carrier, Thomson Airlines, has embarked on a buying spree that has been described as the largest charter fleet overhaul in UK aviation history. Thomson has recently taken delivery of the first of 22 'next-generation' Boeing 737-800s. The airline currently carries close to 5.5 million passengers each year from airports located across the UK.
The new aircraft is the first of what will be a massive upgrade that will see a third of the entire Thomson fleet being replaced; it is expected that the project will be completed within a relatively short timescale. In addition to increasing the volume of passengers carried, the new generation 737s will be more economical to operate in terms of fuel efficiency and CO2 emissions. When compared to its existing aircraft the new models will consume approximately 15% less fuel, thanks to latest engine developments and improved aerodynamic efficiency.
The new aircraft are likely to be used primarily out of Bournemouth, Doncaster, London Luton and East Midlands Airports, with some summer routes also operating from London Gatwick and Manchester. In addition to the 737s, Thomson Airlines is also planning to upgrade its entire fleet, which will involve the purchase of eight Boeing 787 Dreamliners.