Singapore Changi (SIN) Airport Guide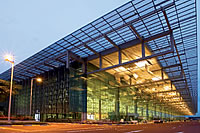 With a capacity of 70 million passengers, Singapore Changi Airport has grown to become one of the largest aviation hubs in the Asia-Pacific area.
The airport, which is located on the eastern tip of Singapore, was built in 1975 to replace the smaller Paya Lebar Airport. Since that milestone, it has welcomed two new terminals and is now visited by more than 30 million passengers a year.
Recognition of Changi as a major hub has since continued to grow, with Buying Business Travel magazine voting the best worldwide airport on no fewer than four occasions. In 1997, it even received the rare honour of having an orchid named after it.
Major carriers serving the airport include Singapore Airlines, Delta, Lufthansa and British Airways.
Singapore Changi Airport Amenities
Whether you have to send off that important email to a client, need a place to rest with the family or simply hope to find some souvenirs, Singapore Changi Airport is sure to have something to fulfil your needs.
Changi is highly regarded by business travellers for the breadth of facilities available. Terminals 1 and 2 both feature business centres, offering passengers services such as mailing and 24-hour photocopying and faxing. The airport also offers internet availability ranging from 3G broadband rental to wireless connectivity for those whose have their portable devices at hand. If rest rather than work is your priority, then why not unwind in one of the various napping and rest areas or take advantage of the fitness and spa facilities that can be found in all three terminals.
Nature plays a big part at Changi, with six astounding gardens waiting to be explored. Weary passengers can stretch their legs by strolling around the Butterfly Garden in Terminal 3 or watch Koi carp swim gracefully in the Orchid Garden's pond in Terminal 2.
Shopaholics will be delighted by the range of retail choices that can be found at Changi. Fashion stores at the airport include Burberry, Levi's and Gucci, while an Omega boutique welcomes lovers of fine watches.
There are also plenty of choices for those looking for a bite to eat, with a host of bars, cafes and restaurants present. Changi boasts a number of foodcourts, including the 24Hr Food Gallery in the departure/transit lounge and The Food Gallery, one of which can be found in both Terminals 1 and 2.
Terminals at Singapore Changi
Singapore Changi Airport has three main terminals, each with a passenger capacity in excess of 20 million a year.
A terminal serving budget airlines was added in 2006 while JetQuay, the first standalone luxury terminal Asia, is also connected to Changi.
Singapore Changi Transport Links
Getting from Changi Airport to the centre of Singapore is a straightforward experience, regardless of which mode of travel you prefer.
Trains run regularly from below terminals 2 and 3 from 05:30 to 23:18 and cost SGD $2.70, while the 36 bus service also runs through the day. For those staying in one of the city's major hotels, the airport shuttle may be a better option, with an adult fare to the establishments' steps costing $9.00.
Taxis cost somewhere between $18.00 and $38.00, while limousines begin from $16.00, not including the metered fare.
Singapore boasts another airport, Seletar, though this is used mainly by budget airline Burjaya Air and a number of flying schools.