China Southern Airlines Flights and Routes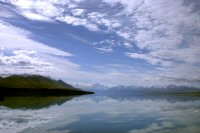 China Southern Airlines operates domestic, regional and international services and is the largest airline in China in terms of fleet size and passengers carried.
New Zealand tourism will be given a boost, as China Southern Airlines is set to introduce three flights per week between Auckland and Guangzhou via Melbourne. It is the first airline to take this initiative, which will benefit tourism in both countries and will mean 88,000 extra seats each year.
Guangzhou is China's third most populated city and home to nearly 12 million people. It is hoped that the service will encourage more of this vast population to visit Auckland, which is New Zealand's largest and most multi cultural city. New Zealand is the perfect destination for adventure seekers, who can try bungee-jumping or abseiling down a 25m waterfall at Blue Canyon on Auckland's West Coast.
West Australia is also expected to benefit from China Southern Airlines' services, as additional flights are planned between Perth and China. WA Tourism Minister, Kim Hames, said that gaining direct air access to the massive Chinese tourism market was a top priority of the state government and Tourism WA. Currently, West Australia only attracts about 3% of Chinese visitors to Australia and the government and Tourism WA were eager to rectify that and significantly increase their share of the Chinese market.
China Southern Airlines is a member of SkyTeam