Kuala Lumpur International (KUL) Airport Guide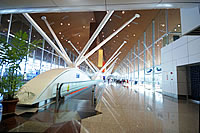 Kuala Lumpur International Airport handles between 15 and 25 million passengers a year and has three times been named the World's Best Airport, at the AETRA awards in 2005 and the ACI-ASQ ceremony in 2006 and 2007.
It is situated around 50km from Malaysia's capital city, Kuala Lumpur, close to the Formula One race track used for the Grand Prix in March every year.
Kuala Lumpur International Airport is unique in that it is not only a transport hub, but also a destination in itself, with the main terminal building surrounded by green space and the complex including facilities for business, entertainment and relaxation.
Kuala Lumpur International Airport Amenities
The extensive hub has a variety of facilities and services to attend to a passenger's needs. The lounges are located in the Satellite Building on the mezzanine level.
These include Malaysia Airlines' Golden Lounge, Thai Airways' Royal Orchid facility, the Cathay Pacific Lounge, Silver Kriss facility for Singapore Airlines passengers, the Emirates Lounge and China Airlines' Dynasty Lounge.
Emirates Lounges offer the luxury that would be expected of a United Arab Emirates-based carrier. When passengers arrive at the facility, there is a selection of food and beverages waiting, including Arabic, Far Eastern, Western and vegetarian cuisines.
There is also a fully-quipped business centre with independent work stations offering free broadband and wireless LAN access.
The Cathay Pacific lounge also offers refreshments and internet access, as well as TV and local phone connections.
Elsewhere, there are cafes, fast food outlets and restaurants to suit various tastes across the terminal buildings. The airport has everything from Burger King and KFC to Starbucks and CafÈ Ritazza. Those looking for more upmarket dining can opt for the Satay Club Grill and Bar or Palms Grill and Bar.
There is also a huge range of shops in the main terminal building, Contact Pier and Satellite building. These range from high street shops like Tie Rack and The Body Shop to designer stores such as Versace, Hermes, Christian Dior and Burberry. There is even a Harrods store.
Terminals at Kuala Lumpur International
Kuala Lumpur International Airport comprises the multi-level main terminal building, where passengers check in, Contact Pier, which handles both domestic and international travellers and the Satellite building, which serves international passengers only.
The main terminal building acts as the gateway to the other sections of the hub and there is a free Aerotrain shuttle link that moves passengers between the Contact Pier and Satellite buildings. This runs every three to five minutes and the journey last just two minutes. The carriages can carry up to 250 passengers per trip.
Kuala Lumpur International Transport Links
Travellers can access Kuala Lumpur International Airport via train, bus, taxi or car. There are six companies offering private rental hire, including Hertz and Avis, all located in the main terminal building.
Buses run between the hub and surrounding towns and cities in Malaysia, including Banting, Seremban, Nilia, Kuala Lumpur and Bukit Changgang.
The Express Rail Link connects the airport to the city centre. The Ekspres train is the fastest method of transport to Kuala Lumpur city centre, taking just 28 minutes. The service operates every 15 minutes during peak hours, every 20 minutes and every 20 minutes after midnight. The first train is at 05:00 and the last leave the airport at 01:00.