Beijing Capital (PEK) Airport Guide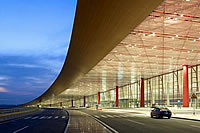 Situated 25 kilometres north-east of Beijing, the Beijing Capital International Airport is one of China's main gateways and features three terminal buildings.
The airport's third terminal opened last year in time for the Beijing Olympics, at a cost of over $2 billion.
Beijing Capital International is served by most major airlines including KLM, British Airways and Singapore Airlines.
Beijing Capital International Airport Amenities
A modern airport, Beijing Capital International is home to an excellent range of facilities and along with the usual array of foreign exchange kiosks, ATM machines and banks, passengers will find children's play areas, a post office and a clinic.
The airport is home to a business centre where passengers can access the internet and charge mobile phones and laptops. Fax and document binding services are also available.
Passengers with a little time on their hands can head to the airport's entertainment centre, which is located on the third floor of the station building. Travellers can relax in a traditional Chinese tea room or enjoy a relaxing massage. Hair dressing services and beauty treatments are also available.
The airport is the ideal place to pick up some last-minute gifts and travellers will find everything from traditional Chinese goods to branded cosmetics and designer items. Chinese spirits and teas are also available to purchase and passengers can also pick up tax-free wines and liquors.
When it comes to food and drink, passengers will find an extensive range of restaurants, with Chinese food, Japanese, Korean and western cuisine on offer.
Situated in Terminal 2, the Gaya restaurant is a good option for passengers looking for a sit-down meal in nice surroundings, while coffees and light snacks are available from outlets such as Starbucks and Coolava.
Terminals at Beijing Capital
The airport is home to three terminals, which are linked by a free shuttle bus that operates regularly from outside the arrivals hall.
Beijing Capital International Transport Links
The airport's transport benefited from major investment before last year's Olympics and passengers and passengers will be spoilt for choice when it comes to travel options.
Buses operate regularly between the airport and Beijing's city centre, with the average journey costing around 16 yen. A metro link rail service is also in operation.
Taxis are available from designated areas outside the terminal buildings. Journey time to the city is between 40 and 60 minutes, depending on traffic. Writing down the name of your hotel is also highly recommended if you want to avoid a frustrating and costly search for it.
Beijing Capital International is Beijing'sonly major airport; however, other airport's relatively close by include Shijiazhuang and Shenyang, which are accessible by train.