Sydney (SYD) Airport Guide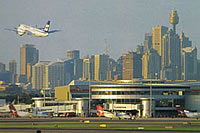 Located around 9km south of Sydney's central business district, Sydney Airport is the biggest airport in Australia, used by 32.9 million passengers last year.
It sees an average of 90,000 passengers every day and is one of the world's oldest continually operating airports and Sydney Airport Corporation Limited was privatised by the Australian government in 2002.
Airlines that operate from the facility include Qantas, Virgin Atlantic, Air France, British Airways and Emirates.
Sydney Airport Amenities
There are a host of places where travellers can grab a bite to eat or a drink at Sydney Airport, with Terminal 2 home to Harry's Cafe de Wheels.
Here travellers can try out the Tiger, which consists of a choice of a lean beef, chicken and mushroom, cheese and bacon or vegetable pie as well as mushy peas and mash.
In the same terminal, people will find Bar Ristretto, which offers gourmet food, with the menu made fresh on the premises.
Boutique wines and beers are also on offer as well as toasted sandwiches on award-winning breads.
For those travellers who want to keep healthy on their flights, Boost Juice can be found in Terminal 2, providing low-fat yoghurt smoothies as well as fruit juices.
In both Terminals 1 and 2, NewsLink outlets can be found and holidaymakers can pick up books, magazines, newspapers and souvenirs, among other goods.
As for fashion shopping, the airport has plenty to offer travellers, including Ralph Lauren and Omega in Terminal 1, while over in Terminal 2 there is French Connection and Witchery.
In Terminal 1, holidaymakers will be able to make some electronics purchases, as Live 2 Play has products from notable brands such as Apple, Nintendo, Sony and Canon.
Terminals at Sydney
There are three passenger terminals at Sydney Airport, including T1: International Terminal, T2: Domestic Common User Terminal and T3: Qantas Domestic Terminal.
Sydney Transport Links
There are many bus services that run from Sydney Airport, although the majority require pre-booking.
Sydney Buses offers a timetabled service that runs between Bondi Junction and Burwood, with T1 International and T3 Domestic Terminals stops as well.
The T-Bus shuttle bus service runs between T1 International and T2 Domestic Terminals, while the P-Bus is free of charge and operates continuously between only the Remote Long Term Car Park and the Domestic Terminals.
There are a variety of car hire services that are in operation at Sydney Airport, including Avis, Hertz, Europcar and Budget.
Rail travel is another option for travellers at the facility, with a domestic station to be found between T2 and T3 Terminals. The international station can be found at the end of the T1 International Terminal.
Airport Link is a quick way for people to get into the centre of Sydney, with trains running around every ten minutes.
A journey on this service to the city centre takes just 13 minutes.