Hong Kong International (HKG) Airport Guide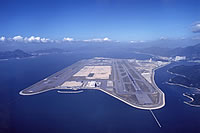 Hong Kong International Airport (HKIA) runs the busiest international cargo facilities in the world and is the fourth busiest in terms of passenger numbers.
Over 48.6 million travellers used the airport last year, while around 750 aircraft movements are carried out every day at HKIA, where approximately 80 airlines operate.
British Airways, Emirates, Qantas Airways, Virgin Atlantic Airways and Hong Kong Airlines are just a number of the carriers that operate at Hong Kong International.
Hong Kong International Airport Amenities
There is a host of places to do some shopping at HKIA, with a number of outlets that will most likely please fashion fans.
Among the designer stores in the airport are Burberry, Giorgio Armani, Gucci, Prada and Versace, which are all to be found in Terminal 1, while in Terminal 2 travellers will find Lacoste, Calvin Klein Jeans and Adidas.
As for gastronomic treats, those using the airport's facilities have a wide selection of eateries to choose from.
There is a selection of Asian restaurants, including Cafe Deco which has a private room that can accommodate up to ten guests with live band performances to be enjoyed between Tuesday and Sunday nights.
For people with a predilection for Chinese food, there is Ah Yee Leng Tong, which serves Cantonese dishes as well as dim sum, among other foods.
As for entertainment, Hong Kong International has the 4D Extreme Screen, which features a state-of-the-art 3D projection system supplemented with seven multi-sensory special effects. It is also the biggest 4D screen in Asia.
The Aviation Discovery Centre, meanwhile, includes interactive kiosks, a cockpit simulator as well as a full-motion plane-cabin ride simulator named 4D Motion Ride.
Terminals at Hong Kong International
HKIA is home to two terminals, with the second opened in June 2007. Plans are currently in place to make a Terminal 1 capacity enhancement as part of a HK$4.5 billion (£352 million) programme.
Hong Kong International Transport Links
Around 320 coach trips a day link Hong Kong International with 90 Pearl River Delta (PRD) cities and towns, while cross-boundary limousines can help get people to their PRD destinations directly.
There is also the SkyPier cross-boundary ferry service, which transports passengers between the Pearl River Delta and international destinations via Hong Kong Internationa, without having to go through immigration and customs formalities in Hong Kong.
A total of seven Pearl River Delta ports offer these cross-boundary services, including Shenzhen Shekou and Fuyong, Guangzhou Nansha, Dongguan and Zhongshan, while a new permanent SkyPier facility is currently being constructed.
At Shekou, Fuyong, Macau and Dongguan Humen travellers can pre-check their baggage and obtain their boarding pass.
The Airport Express links HKIA directly to Hong Kong's central business district, while taxis and coaches provide passengers with even more choice when it comes to transport.
Travellers with mobility difficulties can use the Hong Kong Society for Rehabilitation Rehabus service that runs a fleet of more than 100 vehicles that provide accessible and safety facilities for wheelchair users.
Rehabus services run between the airport and hotels as well as for sightseeing for those that have difficulties or cannot use public transport at all.
Dial-a-ride, scheduled route and pooled dial-a-ride services are all on offer and Rehabus can be booked in advance.