Bangkok Suvarnabhumi (BKK) Airport Guide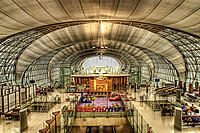 Situated in the Samut Prakan province, around 30km east of Bangkok, Suvarnabhumi Airport is Thailand's main international transport hub and serves around 38 million passengers a year.
The airport opened its doors in 2006 and is home to one large terminal building.
Several major carriers operate regular flights to Suvarnabhumi Airport from the UK, including Thai Airways, Gulf Air, Finnair, and Emirates.
Bangkok Suvarnabhumi Airport Amenities
As a relatively new airport, Suvarnabhumi boasts an excellent range of passenger facilities.
The airport is home to more than 50 eateries, including several sit-down restaurants. Interestingly, dining venues are grouped according to where passengers are likely to be travelling.
European-style restaurants can be found on the western concourses, while oriental eateries occupy the eastern areas, which are typically used by Japan Airways and Thai Airways.
Popular places include the Mango Tree, which serves a range of Thai-inspired dishes such as fried prawns in tamarind sauce and noodle soup.
Passengers looking for a quick bite to eat will find several international fastfood outlets, including Burger King and The Pizza Company.
There are also several exclusive wine bars, as well as a handful of coffee shops and deli counters.
Travellers are also well catered for when it comes to shopping and will find a good selection of perfume, clothes, cosmetics and other duty-free items.
A number of luxury brands have boutiques at the airport, including Burberry, Dior, Cartier, Mont Blanc and Hugo Boss, as well as Chanel, Chopard, Gucci and Fendi.
A selection of Thai shops can also be found at Suvarnabhumi Airport. Outlets include Chitralada, Sai Jai Thai and Mae Fah Luang, which stocks a range of souvenirs and handicrafts made by local hill tribe people.
Business travellers using the hub will find conferencing facilities and internet access at the nearby Novotel Suvarnabhumi Airport Hotel.
Terminals at Bangkok Suvarnabhumi
Suvarnabhumi Airport is home to one large terminal building, although plans are in place to construct a second terminal within the next three years.
Bangkok Suvarnabhumi Transport Links
Air-conditioned Airport Express buses provide regular services between Suvarnabhumi and downtown Bangkok, stopping at several of the city's main hotels.
Services operate between 5am and midnight, with buses leaving regularly from the airport's arrivals hall.
Taxis are also in operation, as well as private limousines, which offer set fares to city centre locations.
A number of hire car companies have desks at the airport, including Thai Rent-A-Car, Avis, Budget, Hertz and Europcar.
Work is currently being carried out on a new rail link between Suvarnabhumi Airport and Bangkok city centre. The project is expected to be completed by December, with members of the public being offered free rides during the first month of service.
The new line is said to be around 98 per cent complete and will be handed over to airport authorities in the coming months for testing.