Blackpool Cheapest Fares
To search and book flights to Blackpool in 2017 and 2018, please enter your requirements and click the search button above.
Blackpool receives a lift from Strictly Come Dancing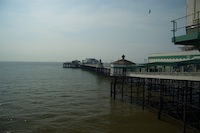 Blackpool, UK, is set to receive a huge boon in tourism, thanks to the hit television programme Strictly Come Dancing and the local council's daring ambition.
Acclaimed as the home of dance by some, Blackpool's Tower Ballroom is set to host the Strictly Come Dancing ballroom dancing contest for the third time. This honour has put a lot of confidence back in the city. Usually a thriving seaside resort, this destination has seen tourism drop during the recession, as have many popular tourist destinations.
The Tower Ballroom is currently undergoing a £5 million refurbishment including replacing the ballroom roof, which should be complete by September 2011. It is part and parcel of the Blackpool Council's plans to become one of Europe's top family friendly resorts. The council aims to redevelop the iconic Blackpool Tower as well, with the Tower at the heart of its new tourism strategy. Changes to the Tower include modernisation of the observation platform, with an extended glass floor area and a 4D cinema. Despite the costly innovations, the Tower will remain free to visitors.
By the first week in September the council's contractor, Merlin Entertainments, will be operating no less than seven attractions in Blackpool, more than any other city in the UK. A waxwork of Bruce Forsyth, known for his appearances at the Tower Ballroom as host of Strictly Come Dancing, will be part of a new Madame Tussaud's attraction to open in this ever developing destination.