Germanwings Flights and Routes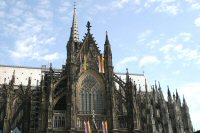 Based at Cologne-Bonn, Germanwings serves a network of 60 European destinations using a fleet of Airbus aircraft.
Low cost airline, Germanwings, now offers flights to three destinations in Germany from London's Stansted Airport. The routes, to Cologne, Hanover and Stuttgart, offer passengers a wide selection of daily departures.
Travellers might choose to visit Cologne, Germany's oldest city and the cultural centre of the Rhineland. The city's history stretches back to a time when it was a small Roman settlement on the Rhine. Now, it is vibrant place, home to a thriving arts scene and numerous festivals throughout the year. Visitors to the city will also admire the medieval architecture that is scattered throughout the city, including Cologne Cathedral and twelve Romanesque churches.
To the far north of Germany lies the city of Hanover, the capital of the federal state of Lower Saxony. The city is home to the annual Oktoberfest Hanover, the second largest beer festival in the world. Other landmarks include the Royal Gardens of Herrenhausen and Leibniz University, as well as the world famous Hanover Zoo, which is consistently ranked one of the most enjoyable in the world.
To the far south of the country lies Stuttgart; home to a variety of parks and beautiful architecture, it is the sixth largest city in Germany. Known for its cultural heritage, Stuttgart is famous for its State Theatre and State Gallery, which holds works by artists such as Rembrandt, Renoir and Monet.