Cubana Flights and Routes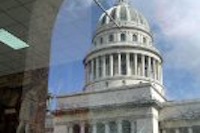 Cubana de Aviación S.A is the leading airline of Cuba. It is in charge of passengers' transportation, cargo and mail transportation.
Halifax, Nova Scotia, has welcomed Cuba's national carrier, Cubana Airways, to Stanfield International Airport. Cuba is one of the most popular winter destinations for Canadian holidaymakers and residents of Nova Scotia can now take advantage of these new direct flights.
Hola Sun Holidays, a Montreal-based company, provides travellers with holiday packages to Cuba and will be using the new air links to introduce more Nova Scotians to the popular Caribbean island. In a study of economic impact, airport officials estimated that Halifax Stansfield International Airport is worth more than $1.2 billion to the economy of the region.
Now that the Cuban airline has put Stansfield International firmly back on the map, tourists from both countries are expected to make good use of the service. Nova Scotia is famous for outdoor adventure, with many national parks and 7,600km of coastline. Travellers also appreciate its excellent food and wine, particularly shellfish and grapes, which are grown in coastal vineyards. Meanwhile, Cuba offers 'Latin spirit' in the form of music, dance and fiesta, as well as its legendary cocktails, some great beaches and warm winter sunshine. Both destinations are full of friendly, gregarious locals who value family and community very highly.