Eastern Airways Flights and Routes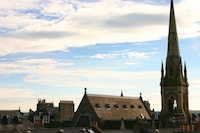 Eastern Airways fly to and from many UK airports
Eastern Airways has increased its number of daily flights between Southampton and Aberdeen, providing better choice and service for holidaymakers and business passengers alike.
Aberdeen, also known as 'the Granite City', is an ideal spot for a city break, and offers excellent facilities for holidaymakers. Shoppers will enjoy the famous Union Street, a bustling stretch of high street chains and restaurants. Those with a passion for the arts can enjoy the numerous galleries Aberdeen has to offer, including works from Monet and Renoir. For those wishing to explore further afield, Aberdeen is renowned for being the 'Gateway to the Highlands', with beautiful scenery and getaways less than an hour's drive away. .
Eastern Airways will operate four flights on weekdays between the two destinations, with an additional flight departing on Sunday evenings. This will also provide strong transportation links for business commuters, as Aberdeen is one of the fastest growing Scottish centres for commerce.
The extra flights will also help the local tourism of Southampton to boom, and will allow a great deal of travellers from the north of Scotland to experience what the area has to offer. Travellers will enjoy the numerous opportunities for shopping in the city centre, as well as superb restaurants and nightlife. These attractions, coupled with world class sports venues and some of the best theatres England has to offer, are sure to entice many. In addition, the city is a business hub in the south of England, with strong ties to many influential business areas, including London.