Air Tahiti Flights and Routes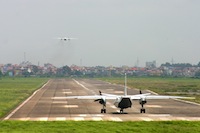 Air Tahiti Nui is the international carrier of Tahiti and Her Islands. The airline links four continents to the South Pacific. They offer routes from New York and Los Angeles, to Papeete, Tahiti, France, New Zealand, Japan, and Australia.
Air Tahiti operates ATR aircraft throughout French Polynesia and holds the record for owning the shortest scheduled route in the world. Totalling a distance of just 18 kilometres, Air Tahiti flies between Moorea and the Pacific Islands. The company also holds the record for the longest scheduled flight flown by an ATR plane. This route is 1,650 kilometres long and takes passengers between the remote Gambier Island and Papeete.
The company is about to achieve another goal by being the first airline in the world to operate both versions of the turboprop ATR 600 series planes. Air Tahiti operates ATR 42-600 planes as well as the ATR 72-600 series planes. These planes will be used in conjunction with the company's existing fleet to better serve its customers in the French Polynesian islands.
The ATR aircraft are renowned for their fuel economy which will benefit customers of the airline, the operators of the airline and possibly most importantly in these times of heightened environmental awareness, the local population. The aircraft are also very flexible in terms of take-off and landing and reliable in terms of the stresses and strains placed upon them by some of the record breaking routes that they fly.